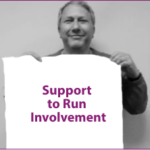 Support to run involvement
Organisations are realising the many benefits of involving service users in their work. By drawing on the strengths, experience and expertise of users and their communities and families, you can ensure your services are efficient and meet people's needs.
But where do you start? How do you find people? How do you make sure people are not excluded, and that their involvement is meaningful?
We can help you with advice, training and support. Contact us to discuss your needs. You can also advertise involvement opportunities and events to our network on our Involvement Opportunities Board.
WHAT WE OFFER
Consultancy Support
We can work with you to understand your needs, and give training, advice and support on areas such as:
Developing a strategy for involvement, engagement or co-production.
Identifying the right methods to make it work in practice.
Running and facilitating accessible and inclusive events and involvement activities.
Recruiting and working with service users and their families, including setting-up lived experience involvement boards.
Building skills and capacity of service users, to reach their potential in involvement activities.
Involving people in research and getting better outcomes.
WHAT WE OFFER
Staff Training
We can identify the training needs of your staff and measure the impact of training on their knowledge and skills.
Our training provides a vital starting point for good practice in involving people who use services, as well as carers and other members of the public.
Training courses can be tailored to your needs on topics such as:
Disability equality.
Inclusion.
Service user focus.
Co-production.
Running accessible. meetings and events.
WHAT WE OFFER
Review and Evaluation Services
We can provide you with:
Guidance for user-controlled evaluation of services and activities.
Support in gathering information.
Help to identify lessons and improve your practice.
Support, training and capacity-building for people who use services to take part in involvement opportunities.
Promotion of your involvement opportunities or events to our national user-led network.
What our clients say
Through our ongoing work with Shaping Our Lives to try and build new collaborations between user-led organisations and academic research teams, we have drawn heavily on their extensive experience and expertise in working with people from marginalised communities.

Working together, we hope to increase the positive impact of research in society by making it possible for Disabled people and other service users to be meaningfully involved in research, policymaking, and the design of services which will better meet their needs.

Professor Glenn Robert Chair in Healthcare Quality & Innovation, King's College London
Southend-on-Sea Borough Council reached out to Shaping Our Lives to support the recruitment of people with lived experience of health and social care services in Southend-on-Sea for a new user-led community board.

A Shaping Our Lives member of their National User Group joined our recruitment panel and provided considerable insight and expertise into inclusive recruitment helping us to form a board that reflects the diverse Southend-on-Sea community.

Charlotte Humble Commissioner, Southend-on-Sea Borough Council