Setting up service user involvement groups for social work and social care education
20 September 2023
inclusion
involvement
Research
Shaping Our Lives have supported several universities to develop their service user involvement in social work education and across health and social science courses. The work usually comprises a number of meetings and facilitated workshops with the academic staff and service users. Sometimes Shaping Our Lives recruits a group of people to take part. On other occasions, the university already has an established group.
In these workshops, the team of academic staff and service users decide how they want to work, defining their vision, values, how to make events accessible, and key roles.
Here, we share some learnings from various groups and universities that we've worked with. We've included conversation starters in case you want to have some similar discussions with your existing or new user groups.
Values and vision
Conversation starters:
Who are we?
What do we want to achieve?
What are our values?
What are our priorities?
A vital starting point when setting up a service user group is the overall values and vision that the service user group wants to have. Don't skip this step! This groundwork will lay the foundations for an effective, united group.
We suggest that over the course of several workshops, groups work together to articulate and finalise their vision statements. They may also develop an action plan for the short, medium and long term which can sometimes be neatly described in a mission statement – how they will achieve their vision.
Some excerpts from user group vision statements from our workshops:
"We are an inclusive and collaborative group of diverse people who want to support ongoing learning."
"We challenge discrimination and inequality."
"Underpinning all our work is a shared commitment to social justice."
In these early stages, we would also encourage the team to develop a set of values to which the group can all agree. These may include, for example:
Listening
Treat every individual equally
Trust, respect, honesty
Work flexibly, work collaboratively
Commitment to social justice.
Anti-discriminatory and anti-oppressive
Working together to create a vision and values helps everyone to get on the same page at the very beginning and have a clear sense of what the group's ethos and purpose is. It's a good ice breaker too and can lead to interesting conversations about language and wording – which can be vital for inclusion.
There may be particular words that people don't feel comfortable with and having these conversations early on can weed out the language and wording the group does and doesn't want to use.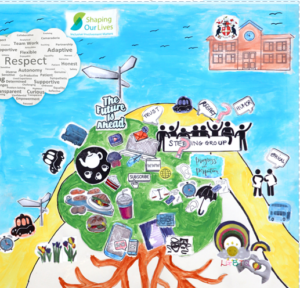 Creative activities may also be a good way to get your group talking and sharing ideas! Here's a poster done by one of the service user groups we worked with.
Exploring members' expectations and experiences
Conversation starters:
What are our hopes and fears for the day/activity?
How should we check that everyone is having a positive experience?
What are we hoping to achieve?
What difference will it make?
In our experience of working with service user groups, group members have found it beneficial to define some key questions to ask before an activity starts, to regularly check if everyone is having a positive experience and to reflect on what the group has achieved. Creating a framework for ongoing evaluation will help to bring to light any problems at an early stage in an informal, friendly way and avoid people dropping out because of an ongoing problem they have.
Here are some examples from user groups we've worked with:
Before a workshop or similar activity:
How is the day going to go?
What are my hopes?
How will I know it is made a difference?
After the activity:
How did you find the day?
How has it been positive?
How could my experience today support others?
Have I gained understanding, skills and knowledge?
Have I learnt something that will help me to contribute to education and research?
Taking part in group activities also raises questions in people's minds and here are some common questions that people ask:
What have I learnt and how will that help me?
Have I learnt what I want to offer?
How will I know where to get support when I share, in all settings?
How do we take learning forward to other settings?
How do I know when I'm ready to put learning into practice?
Accessibility
Conversation starters:
What makes things accessible?
What barriers are there to taking part?
How do we make events/ buildings/ meetings/ social meet ups accessible to everyone?
In workshops that we've facilitated with service user groups, accessibility and inclusion have been key discussion topics. We ask the groups to consider what makes things accessible.
Below are just a few of the valuable insights and questions that have been shared across these workshops. Accessibility and inclusion is a big topic so we've provided links to our other resources which expand on these issues.
What makes things accessible – some considerations:
People being friendly – that includes participants, people leading the activity, and also staff at the venue where the activity is taking place.
A lack of judgement – respect for everyone's opinions should be established in the beginning of the activity.
Not working in big groups – for some people this can be more intimidating, it can also be difficult to find the time for everyone to have a chance to share their thoughts so there is a risk of people not having a chance to contribute.
Attendees being able to bring someone with them for support
Having someone there to greet people, ideally a familiar person that the attendees may have already spoken to. This can be helpful for those who are anxious about going to an event where they don't know anyone.
Building good relationships and trust with organisers can help reduce barriers, but building trust takes time and effort
Not being expected to be a voice for and represent an entire group or community, i.e. not being the only Disabled person, the only Black woman, etc.
Language – not understanding each other can be a barrier to effective involvement, that could include the type of language, cultural differences, or using slang, colloquialisms, or jargon that people don't understand.
Timing can be a crucial issue for accessibility – that includes the timing of the event, timing of breaks, when people need to travel (e.g. rush hour? At night? Peak, and therefore, more expensive times?)
Here are some additional Shaping Our Lives resources which expand on these topics:
The venue and getting there
There are many considerations to having an accessible venue, much more so than simply ensuring there is step-free access.
It's good to have a conversation about this to discover people's thoughts on what they need and want from an accessible venue. You may also find the following resources helpful:
Working well together
Conversation starters:
What are "good" ways of working together?
What sort of things do we expect from an agreement?
What roles do people need to fill?
It's important to take time to discuss with the group the ways they want to work together, getting them to think about what constitutes "good" ways of working.
Here are some examples of things groups have raised that constitute "good" ways of working:
You have to involve everyone.
Being open to doing things differently – what's accessible for one person may not be accessible to others.
Ask people's opinions – make sure you're on the same page, and don't dismiss people.
Having a shared language facilitates a shared understanding.
If people are co-applicants, they should be rewarded for their time. Pay Rises – financial compensation/support and involvement payments should increase with inflation.
Set out clearly what the guidelines are that people are working to – make a terms of reference (the terms to which everyone is working)
We also recommend that the group has time to discuss what they expect from an agreement that lays out how their group will work. Things they might want in an agreement could include the following, which were all raised by groups we've worked with:
Hours
Overtime
What holidays will be like
Which days you will work
What needs to be in place for you to come to the meeting
Agree the timings for papers to be distributed before meetings
Providing contact details of who to contact if there is a problem, if you're running late, or you have any concerns or questions.
Decide how the meetings will be chaired/ how the meetings will run
Clarify the grievance process, or what to do if there are disagreements, or if someone feels unsafe or discriminated against.
The group should agree some ground rules, including expected behaviours that are respectful and clear to everyone.
Include times on the agenda – it helps for timekeeping
Clarify if notes will be taken at meetings, who will take them, and what will be done with them.
Agree how anonymity will be protected, how records will be kept, and how data protection will be adhered to
Clarify if training will be required or provided.
Make sure that the language being used is accessible and inclusive. Maybe have a sheet of common terms to help explain any jargon, and set out agreed terms and words the group will/ will not use.
Expectations – establishing how many meetings to attend and over what time period
Establishing a confidentiality agreement
Meeting Roles
Conversation starters:
What roles need to be done every meeting?
Who will do them?
Can the roles be rotated every meeting, or should they be fixed for a certain length of time?
We ask groups to think about the roles that every meeting needs to have. This helps to make sure these important tasks are done, and manages expectations about who will do them.
Chair – Sometimes this can be a rotating role. The chair makes sure that you cover everything on the agenda, keep the meeting to time and ensure you make decisions. The chair should be decided in advance
Timekeeper – this person supports the chair with timekeeping. Agenda items should have times.
Note taker – someone to take the notes, this should be decided at the beginning of the meeting
Visual Chair (for hybrid meetings) – someone in the live meeting to represent the people who are attending online
Someone to check access – is it too hot? Too cold? Are people comfortable? They make sure everyone can take part in the meeting.
We've really enjoyed bringing service users and higher education staff together to facilitate these discussions.
We have many years of experience facilitating focus groups and discussions in an inclusive way, with service users, researchers, and service providers. If you'd like to find out more about how we can help you with involving service users, from recruitment of participants to facilitating discussions or leading training workshops, then visit our what we offer page, or contact Becki Meakin on becki@shapingourlives.org.uk
Other useful reading: