Social care workshop with the University of Hertfordshire
13 September 2023
inclusion
involvement
Shaping Our Lives are working with the University of Hertfordshire on a project about social care research.
We are facilitating a social care advisory group, which includes people who:
Have experience of using social care services (either directly or for a family member or friend)
Have experience of doing or taking part in research in social care
Are Disabled people with long term health conditions and impairments, including people with learning disabilities
The group will share their experiences of research and/or using social care services to support researchers involved in the SCRiPT study (Social Care Research in Practice Teams) and at the University of Hertfordshire and the University of East Anglia.
Our first workshop took place in July and we wanted to share the outcomes from the enthusiastic and interesting discussions that took place.
The group was a mixture of service users, social care researchers from the University of Hertfordshire and practitioners from Hertfordshire County Council and Norfolk County Council social care services.
What does a good collaboration look like (between service users and researchers)?
Our first discussion was about what good collaboration looks like. The participants divided into three groups, each with a mixture of service users, practitioners and researchers.
Though each group drew very different pictures to represent their discussions, some key themes were clear. These were:
Being different but equal – everyone has their part to play. There needs to be equity between service users and researchers.
Listening to each other – the ability to hear different perspectives, respect them, and share experiences.
Having a shared goal, purpose or final outcome to unite everyone to work towards.
Here's an example of one of the drawings from the group: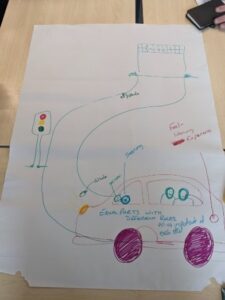 They drew a picture of a car on a road, with potholes and traffic lights heading towards a distant finishing line.
Elements of the car represent key qualities of a good collaboration to demonstrate the equal part each partner plays even though the roles are different.
The fuel to drive the engine is the ability to listen and experience.
Effective partnerships
The groups were then asked to make lists of words they felt describe the qualities and characteristics of effective partnerships for research. The words were then ranked by importance.
The top words that came out of these discussions were:
Inclusion, equal voice.
Shared purpose/goals, ongoing flexibility, equal value, reflective practice.
Widest awareness, respect, inclusion and accessibility
To see the long list of all the words the groups came up with, please download this Word cloud image (or this text only version – Word document).
Interestingly each group had a large number of words on their list, but equality, inclusion, accessibility came out top for all three groups. Each group prized the idea of working together and being valued equally, each voice being inclusively included, accepted and respected.
Enablers and barriers
Given the emphasis the participants based on accessibility and being included, we asked two groups (one service users and one research staff), to discuss the enablers and the barriers to working well together. What would aid their collaboration and what would hinder it?
This is where the two groups came up with some very different perspectives. The focus of the research staff was on logistics, funding, practical issues such as getting the right participants, checking the scope and bias of the research, defining the goals.
For service users, their greatest emphasis was once again on inclusion and accessibility. They highlighted the importance of funding, but for meeting access needs, the need for clear communication and time to prepare, the fear of failure, the need to accept and learn from mistakes.
The different focus of each group was telling – it shows the need for service users at the very beginning of the process in order to highlight those barriers and enablers which they can identify, ones which the researchers perhaps are not as focused on given their own understandable preoccupations with other practical issues.
Without service users helping researchers to identify those barriers from the beginning, how will they be able to overcome them in order to create the kind of inclusive, collaborative and accessible group that both parties so clearly desire?
Download this infographic of the different barriers and enablers identified by each group, or download this text only version (Word document).
Overcoming the barriers
The workshop finished with a round table discussion to brainstorm ways to overcome the main barriers identified in previous exercise.
Some ideas generated were:
Ethics statement/application – involve users in developing this, therefore allow time to do this. Remember to build in access requirements of researchers and participants (otherwise might have to reapply if stated methodology differs).
Some work might be eligible for Research Design Services brokered by NIHR and the Health Services Delivery Research stand.
Recruiting service users – go to the local DPO(s) – Deaf and Disabled People's Organisation. Think about other communities of interest and voluntary sector organisations which are gateways to them.
Make sure participants have actual experience of research question subject.
Accessible materials – there are organisations such as Easy Read Online and CHANGE in Leeds that will translate materials into easy read. Plan ahead to produce accessible materials, not as an after thought after they are written. Long lead time needed for BSL interpreters.
Great feedback
We're delighted that all participants fed back that they were 'very satisfied' or 'quite satisfied' with the organisation, content, and delivery of the workshop. It was a highly engaged group with some great outcomes that will help to shape the work of the project as it progresses.
We have over twenty years of experience in inclusive service user involvement. If you'd like us to help you facilitate a workshop or deliver training, please don't hesitate to get in touch – hello@shapingourlives.org.uk