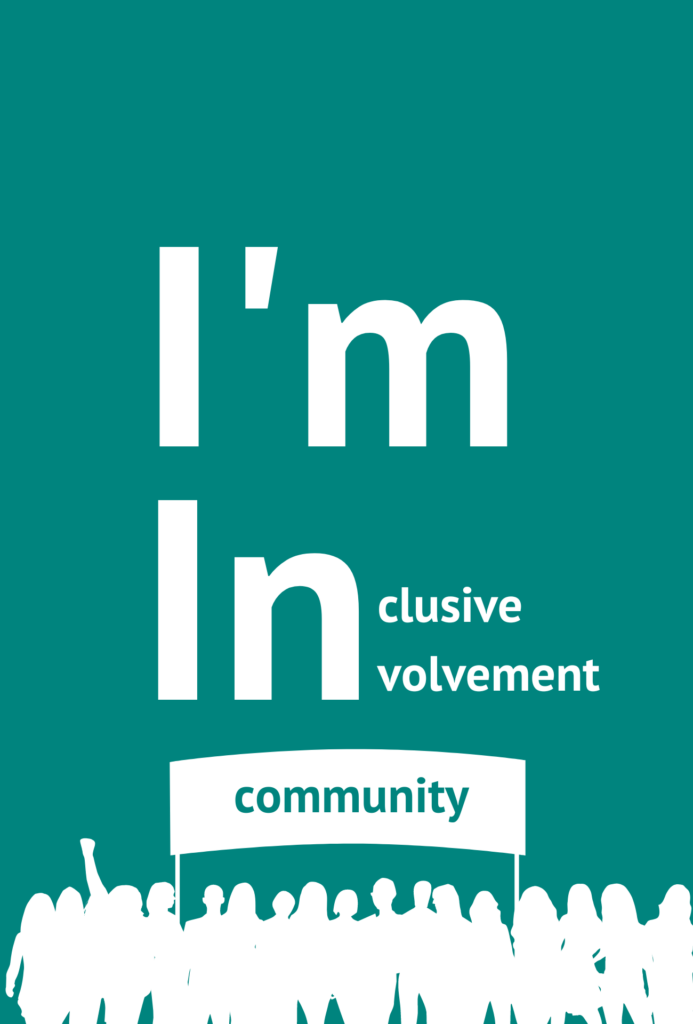 Be part of the Inclusive Involvement community
Are you interested in truly inclusive, effective involvement? Do you want to make sure everyone's voices can be heard?
We're building a community of people who are committed to inclusive involvement.
You might be:
Someone who wants to share their lived experience to:
Improve services for others
Inform research studies
Someone who runs involvement and co-production activities
Someone who works with service users, patients, or the general public to get their valuable input
Someone who carries out research
Someone who is interested in involvement but doesn't know much about it yet
A user-led organisation keen to ensure marginalised and seldom-asked communities are heard.
As long as you are committed to inclusive involvement, then everyone is welcome to join the community.
What is inclusive involvement?
Involvement activities enable people to have a say in policies and services that affect their lives. It can mean sharing experiences of using services, of being part of a diverse community or of having an impairment or health condition. However, not everyone has an equal chance to be heard in involvement activities. People who face inequalities in life also face additional barriers to getting involved. If the barriers are not removed then views, needs and perspectives may routinely go unheard. That's why inclusive involvement, where everyone is heard and valued, is so important.
How to join and what you can do
You'll join over 1000 people and over 320 user-led groups who are part of the community, and will get monthly newsletters packed with resources and news all about inclusion, accessibility, reaching marginalised communities, how to do co-production, and how to ensure everyone's voices are heard. (If you'd like to read our privacy policy you'll find it here.)
Would you be willing to answer these quick monitoring questions to help us understand who is part of our community? It's completely anonymous and will only take a few minutes. We really appreciate it! 
Share your thoughts – got a pressing issue relating to co-production, inclusion, involvement or accessibility that's on your mind? Why not get it off your chest and into our blog? We're happy to feature guest blogs from people on our website about relevant topics. Get in touch if you have an idea you want to share.
Get listed – if you're a user-led organisation that's part of the community you'll get a free listing on our website. Pop us an email so we can list you.
Get in touch – want to know more about inclusive involvement? Need some help or training? Contact us to find out how we can help you.
Support us – the community is free and for everyone, and so are our resources. But if you want to support our work, we would hugely appreciate it. Any donation helps us to continue making the case for inclusive involvement, making sure everyone can have a say. We're a small organisation which punches above our weight – your support really makes a difference to us.
Connect with us on social media – find us there to stay up to date and share your news with us. Your support on social media is hugely appreciated, helping to spread the word about inclusive involvement. Your retweets, shares, likes, and comments can really help to ensure that inclusion and accessibility stays on people's feeds, and in their minds!
Why inclusive involvement matters to me, in the words of people who have been involved:
"Feeling valued and useful is very uplifting and helps with our mental well-being. So many of us lost our jobs due to our health condition … many of us are isolated. Involvement activities, particularly when we get feedback on the difference we have made, are uplifting and important."
"I've had so many good experiences, getting involved in the black user group, getting involved in a national service user organisation and attending some brilliant conferences."
"For me it was a start to getting back out into the world and a step on the journey to being well again."
"[It] allowed me to further learn from… the experiences of other Disabled researchers. They helped me feel like my experiences are not isolated."
If you'd like to read more stories about people's experiences of involvement, then visit our stories webpage.