Developing an Inclusive Approach to Research at Liverpool Hope University
20 November 2023
inclusion
involvement
user-led
workshop
Shaping Our Lives were recently pleased to facilitate a workshop at Liverpool Hope University involving the Service User Group at Hope (SUGaH+) alongside academic staff from the Social Work team and wider School of Social Sciences.
The aim of the workshop was to talk about what would make a great research team, gathering ideas from service users/people with lived experience (PLE), researchers, and academic staff.
After a day of exciting, thought provoking and insightful discussions, we had some wonderful outputs, which we share below.
What could a research team look like?
In one of the most creative sessions we've ever facilitated, the group came up with some interesting metaphors for research teams.
All aboard!
Group one came up with the notion of the coproduction research express bus; asking the key questions – where is it going, who funds it, can you get on and off it, who is driving? Everyone on board has a role – linking everyone, social workers, service users, researchers and other professionals at different times. There's space for everyone on the bus from different cultures.
The group questioned whether, if we leave it to the "bus company" to get on with planning things, will they think of everyone?
Other points the group raised:
A privatised model reduces the quality and increases the cost.
Need a focus on challenging oppressions and ensuring accessibility
Things like a bus pass can make the bus more accessible, for example, for older people. Sometimes that's the only way everyone can get on!
Recipe for success
Group two drew a bowl of Scouse. It is an inclusive dish and one of the oldest dishes. It recognises different subcultures in the city of Liverpool. Different ingredients have been added over time. Cooking is a collective activity, eating a bonding activity, which research can also be.
Other points the group raised:
You can have different varieties of Scouse, you can eat with different accompaniments.
It expresses vibrancy, humour, political commitment-all of these can be a unique identity in research.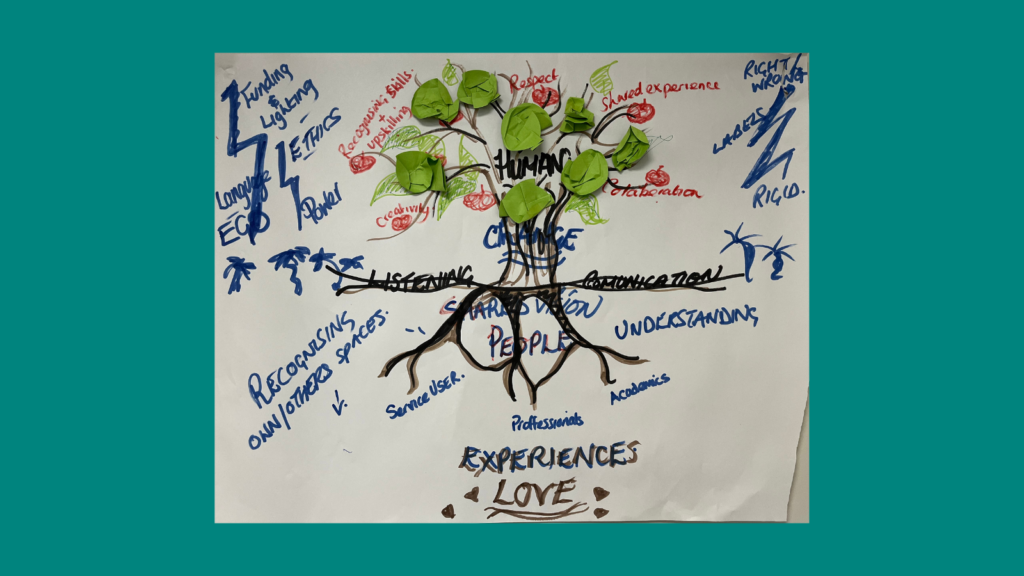 Growth and Change
Group three created this tree diagram to represent different elements of research.
The roots demonstrate how people experience research- it depends on the ground- it can be hard, stony, wet, or fertile.
If we have a shared understanding, a shared vision, we can all nourish the tree. If we recognise each other skills this can lead to change and growth.
Around the tree are lions, tigers and bears – these represent the challenges posed by ethics, use of language, and power imbalance.
The fruit on the tree are the outputs from research. Thunder and lightning are the weather systems that impacts how the tree grows.
In it together
Group four came up with a large umbrella which covers everybody and welcomes everybody to come under. Liverpool is a melting pot with cultures from all over.
What are our diversities under communalities? We are all Scousers but what else are we?
Other points the group raised:
We must go to the most vulnerable voices and empower them.
We must have cultural awareness and sensitivity – don't force people to hide behind a mask.
Barriers and solutions
In a later session, participants talked about barriers to getting involved in research at Liverpool Hope (and beyond) and how to overcome them. Here were some of their suggestions:
Collect case studies to illustrate barriers for service users and students
Introduce this initiative to the new Vice Chancellor so they have an understanding of its value
Promote our work through the school newsletter, university bulletin, university radio
Emphasise the rewards and recognitions for involvement, not just money
Safeguard those getting involved so they benefit, not exploited
Develop School/University involvement guidelines to include inclusion, anti-exploitation, benefits
Ensure internal change is visible so it becomes the opposite of tokenism
Provide research skills training
Ensure service user voice is invited into spaces where it can be heard in the University's management structures
Budgeting – learn how to include involvement payments and the cost of collaborative research
Secure funding for involvement payments
Get university finance team on board to ensure timely payments and cash payment
Have a steering group to get these changes going.
Formal mentoring to provide support
Introduce the idea of the corporate parent, for example, the care leavers covenant
Get recognition of the School's impact in making lives better- collect case studies.
Mimic student voice with formal service user voice.
Seek a seat on the Ethics Committee for PLE.
Seek a seat on the School research committee and University research committee for PLE.
Increase individual capacity and institutional capacity.
Find a platform with senior managers to ensure changes in research and institutional culture
Input into the university research strategy
Work to ensure collaborative/inclusive research is recognised and valued by the university
Ensure formal recognition from university for how the students get value from the School's approach.
Vision statements
The workshop also provided a space for talking about the vision for inclusive research teams. The participants came up with these statements:
Statement 1
We wish to aim to improve the lives of our clients. We like to listen to our community to create a sense of belonging. We listen strongly and treat every individual equally. We care.
Statement 2
This research team is a diverse collaboration that is built on trust, respect and honesty. We work flexibly and collaboratively to challenge inequality and to ensure that silenced voices are heard. Underpinning all of our work is a shared commitment to social justice.
Statement 3
We are anti-discriminatory, anti-oppressive, anti-racism.
Statement 4
Rethinking Scouse -ness: taking the world in one city from 2008 and actualising it as a reality. Breaking free from Scouse-ness excluding outsiders and allowing it to cross borders and become inclusive.
Statement 5
We are an honest and collaborative group of people in a partnership, who want to support ongoing learning whilst challenging discrimination, oppression and racism.
Vision words
Finally, participants also came up with the words and descriptions they felt described the type of inclusive research team they would want to be.
Download these words in a word cloud infographic
Download the text only list of the words
The initiative has just been successful in securing funding from the Cheshire and Merseyside Social Work Teaching Partnership and Department for Education to run a series of workshops at Liverpool Hope in autumn/winter 2022/23 in order to further develop this inclusive model for research.
We want to thank everyone who took part, contributed wholeheartedly and helped to come up with these amazing concepts, ideas, and metaphors.

If you'd like us to work with you to facilitate a workshop like this, please get in touch: hello@shapingourlives.org.uk