Organising inclusive and accessible events: our top tips
18 November 2023
inclusion
involvement
In November 2022, we hosted Thinking Outside the (Tick) Box, a hybrid service user-led conference to share learning from marginalised communities about how to make involvement inclusive and effective. In this blog, we reflect on some of the key lessons we learnt from organising a conference like this for the first time, as well as share our top tips for organising inclusive and accessible events. There is a handy checklist and a visual reminder sheet to download too.
Involve service users in the planning
Service users should be more than guests or token speakers and panellists. Our conference was led by service users, for service users. Involving them in all aspects of the planning and programme brought so much value and many creative ideas to our event, ensuring it was as accessible and inclusive as possible.
A committee of service users met monthly to review, advise and make decisions on the event organisation. Drawing on their skills and lived experience, they made valuable suggestions on all aspects of the conference including the venue, programme and our communications.
We also invited service users to speak and facilitate discussions. This brought new and different perspectives on the topic explored than that usually shared by regular speakers. Moreover, having a range of speakers with different lived experiences also brought attention to the nuances of service users' experiences.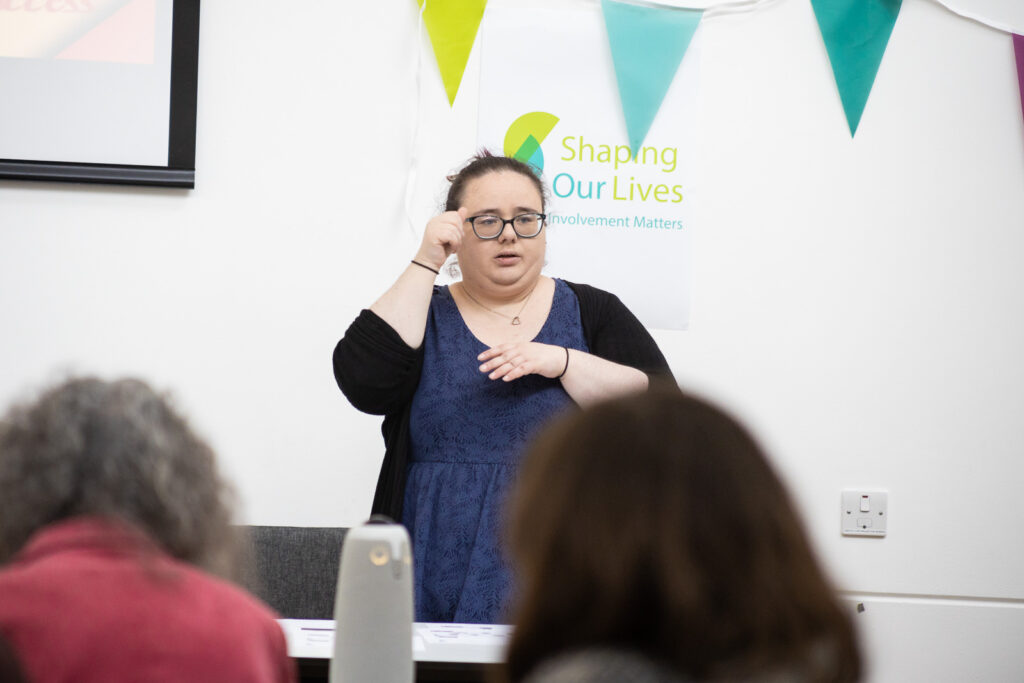 Accessibility is more than step-free access
Event and conference venues continue to be widely inaccessible – even when they claim they are accessible. Finding a venue that is as accessible as possible will take time and a lot of research so start looking early. Often, venues will have ramp access and one blue parking space at best or a step-free access door at the rear of the building at worst. Accessibility is about much more than that and we found it's important to be as clear as possible with venues about what we mean. When contacting them asking whether the venue was accessible, we sent along a (non-exhaustive) accessibility checklist with our enquiries.
Download our accessibility checklist for choosing venues
Download the visual reminder of the checklist
Other aspects to consider beyond our checklist to ensure your event is accessible to people attending include:
state which access requirements are already arranged for the event;
Asking speakers and guests to let you know about any other access requirements not included in your provision;
including interpreters and support workers in the planning by ensuring their access needs and dietary requirements are met too;
if you are providing food, consider a range of food. Make sure that you can cater for a variety of diets (vegetarian, vegan, gluten-free, kosher, halal, for example) and ensure the venue clearly labels the food.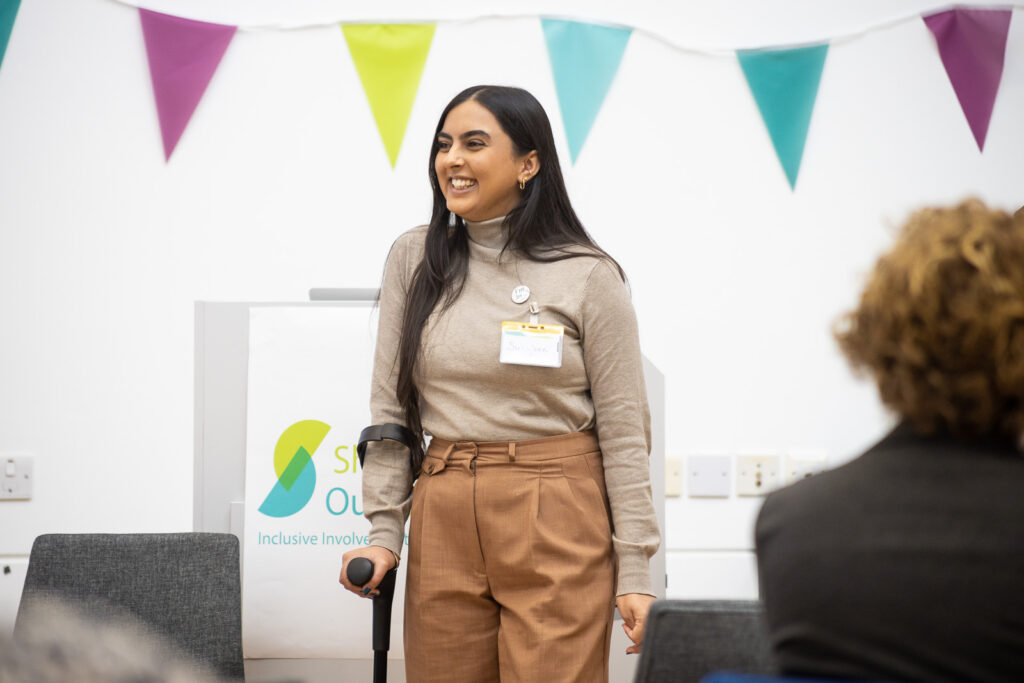 Go hybrid
The single biggest thing to ensure your event is accessible and inclusive is to go hybrid. Many people will not be able to attend in person whether that is because of health reasons, distance, time, or cost.
As the demand for hybrid event grows, there is new technology available to run hybrid events. We used a Meeting owl device, booked as part of our venue package. It is an intelligent 360° camera, microphone and speaker device that can run with online meeting platforms such as Zoom or Microsoft Teams.
Make sure you take the online audience into account in your planning and think about how to ensure they are included. For example, during Q&A times, we made sure to take the same number of questions from the online audience and the in-person attendees
Consider whether your session will work best mixing both the online and in-person audience or whether to run them in parallel. For example, our morning session with talks and Q&As included both an online and in-person audience. However, in the afternoon, we ran breakout conversations on different themes running separately in person and online.
If possible, put time aside to do a practice session and get used to the hybrid setup and the device and software you are using. Given timing, we didn't get to practice as much as we wanted and feel everything could have run smoother had we had more time.
Make sure you have enough staff
Make sure you have plenty of staff and/or volunteers available in-person and remotely to assist people on the day. It's important to have staff available to steward attendees, help people access food or support them with any technical issues. If possible, have extra backup staff members or volunteers in case anyone is ill or unable to attend on the day.
Things will go wrong!
Whether it's speakers unable to participate anymore, the internet going down, or people unable to find the Zoom link, things will go wrong! Try and plan for different scenarios, give clear tasks to staff and be prepared to adapt and improvise. Be transparent with participants and ask for feedback. They will have valuable reflections and comments that will enable you to improve for next time.
Find out more about our conference, the speakers and discussion notes
Read our other blog about access requirements
These resources by Chronic Illness Inclusion also contain useful information on access and remote events.