Meet the team – Becki
23 May 2023
inclusion
involvement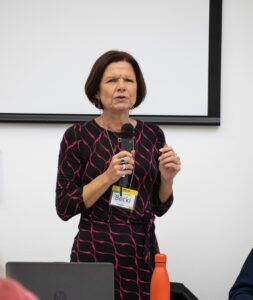 This week we're chatting with Becki Meakin, the Shaping Our Lives Involvement Manager. Becki has worked for Shaping Our Lives for over a decade, and brings her lived experience as a blind woman into her role.
Tell us a bit about yourself
I was born in a tiny hamlet called Ellenhall in Staffordshire. I lived there until I was 18 years old. There was very little public transport so me and my bike were close friends and I cycled to school, to my friends and even to nightclubs! I was diagnosed with Juvenile Glaucoma at 25 years old and the prognosis was that I would be blind by 27. Through exceptional clinical care, I have still about 3% vision in one eye which is helpful.
How did you get involved with Shaping Our Lives and what do you do?
I was looking for a new job when a funded project I had been managing came to an end. I had been working on a project developing Disability service networks in the Southeast of England. It was not a project focused on user involvement or user-led organizations, but I had become really interested in what Disabled people needed from services. It was by chance that I came across a job advert for a Project Manager at Shaping Our Lives which looked enticing and also met my personal situation well as it was home based and at the time I was a single parent to a young son.
Why did you want to get involved with Shaping Our Lives?
To be honest, at the time, I needed a job to pay the mortgage and there were not so many choices as a blind woman! I am not sure I fully understood what user-led meant and the work I would be doing. But I was really struck by the members of Shaping Our Lives and the ways of working that provided an inclusive working environment for people from many different circumstances. I recognized that the principles and practices at Shaping Our Lives were special (possibly unique) and valuable as a wider approach.
Why is inclusive involvement important to you?
I have always felt angry about the way society only values those people they deem to be from 'a good background, with a good education etc'.
This was accentuated when I married someone who had been through paid for education and I saw the different opportunities and attitudes he experienced compared to me, who came from a low-income working-class family. This became more marked as I lost my sight and became disabled.
I have always had time to talk to people who many ignore and have often found it interesting and it has helped to shape my actions and attitudes. Inclusive involvement when practiced properly enables people to be heard and considered equally among others who may be deemed to be more worthy, knowledgeable or professional. However, in the 11 years I have been doing this work and facilitating what people have to share about their experiences of using services, I have never met a professional or practitioner who has not been overwhelmed by what they learn by listening to service users. I feel if I can enable people to be heard in this way it is my role to make sure it happens as often as possible.
Do you have any personal experiences which informs your work with Shaping Our Lives?
Since being diagnosed with an aggressive eye disease that leads to blindness I have used both health and social care services (for over 30 years). I also have childhood experiences of domestic violence and my mother died when I was a teenager. I hope I have used my experiences in a positive way to be able to work well with a range of people.
Find out more about the people that work with Shaping Our Lives